Events
Frequent Events
Monthly Meetings
Monthly meetings are held on the 3rd Wednesday of each month and begin at 7:30pm.
Monthly Breakfasts
Club breakfasts are held the 1st Saturday of every month at Black Bear Diner at 8:30am.
Weekly Net
Weekly nets are conducted on Wednesdays at 7:30 PM (with the exception of meeting nights). All Amateurs are invited to check in on the 145.350- MHz repeater (PL 88.5Hz).
Net Control Assignments
| Month | Name | Call |
| --- | --- | --- |
| January | Robert | KA5WSS |
| February | Darrel | WD6BOR |
| March | Moe | KI6JNU |
| April | Dave | KD6FIL |
| May | Ed | W1EJ |
| June | Frank | KG6N |
| July | Ed | W1EJ |
| August | Carl | N6TTV |
| September | Sam | W5LTP |
| October | Dick | KF6FZM |
| November | Mike | WB6TMH |
| December | Darrel | WD6BOR |
Annual Events
Hamfest - April
VOMARC hosts Hamfest every April. The half day event provides an opportunity to see Amateur Radio in action and buy and sell electronic gear. A pancake breakfast is a major fundraiser for the club.
Field Day - June
Field Day is a national emergency preparedness exercise for Amateur Radio. VOMARC sets up an emergency-powered station at Sonoma Skypark to hone our emergency communications skills. Visitors are welcome.
N6P – August
In cooperation with the National Park Service, Valley of the Moon Amateur Radio Club has activated Amateur Radio Station N6P at the Point Reyes National Seashore for the last couple of years.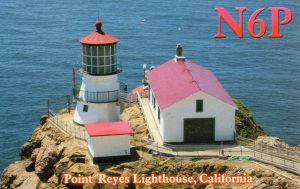 Point Reyes is the windiest place on the Pacific Coast and the second foggiest place on the North American continent. The lighthouse, built in 1870 and retired in 1975, is now under management by the National Park Service. It is the one of the few lighthouses in the U. S. which have the original Fresnel lens and clockwork mechanism in working order.